600th transplant patient survives five years free of disease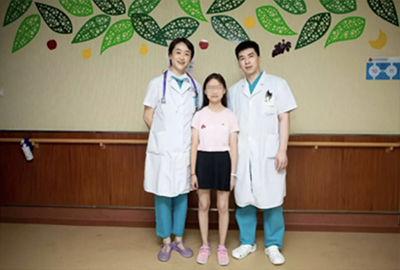 In 2012, a 6-year-old patient was admitted to a local hospital for ATG treatment, but the treatment failed. On the recommendation of friends, her parents brought her to Hebei Yanda Lu Daopei Hospital in April 2014. Upon admission, she was diagnosed with "severe aplastic anaemia". Due to the failure of ATG treatment, the doctor decided to give the patient a haematopoietic stem cell transplant.


On 26 May 2014, the patient underwent allogeneic hematopoietic stem cell transplantation at our hospital. The donor was her mother and HLA partial match (5/10 loci match), blood group match (B for B). Leukocyte engraftment after 13 days, platelet engraftment after 11 days. After 22 days the patient began to show "acute graft-versus-host disease IV ° (skin, liver, gastrointestinal tract)", and "viral enteritis", received anti-GVHD treatment, active antiviral and improved intestinal flora treatment, liver function returned to normal, the rash disappeared, stool returned to normal.


Now she has been off the medication for 2 years, and she regularly visits our hospital, and the indicators are normal, and she has returned to campus and normal life.


As of 30 June 2019, the Lu Daopei medical team has completed 5484 transplants. In the past three years, nearly 10% of the transplants in China every year have been completed by the Lu Daopei medical team. And we hope to help more patients get a new life.