How to access
One-stop service for international patients
Lu Daopei Hospital International Centre is committed to providing streamlined access and personalized care for our international patients. Our staff will assist all patients at all stages of their care: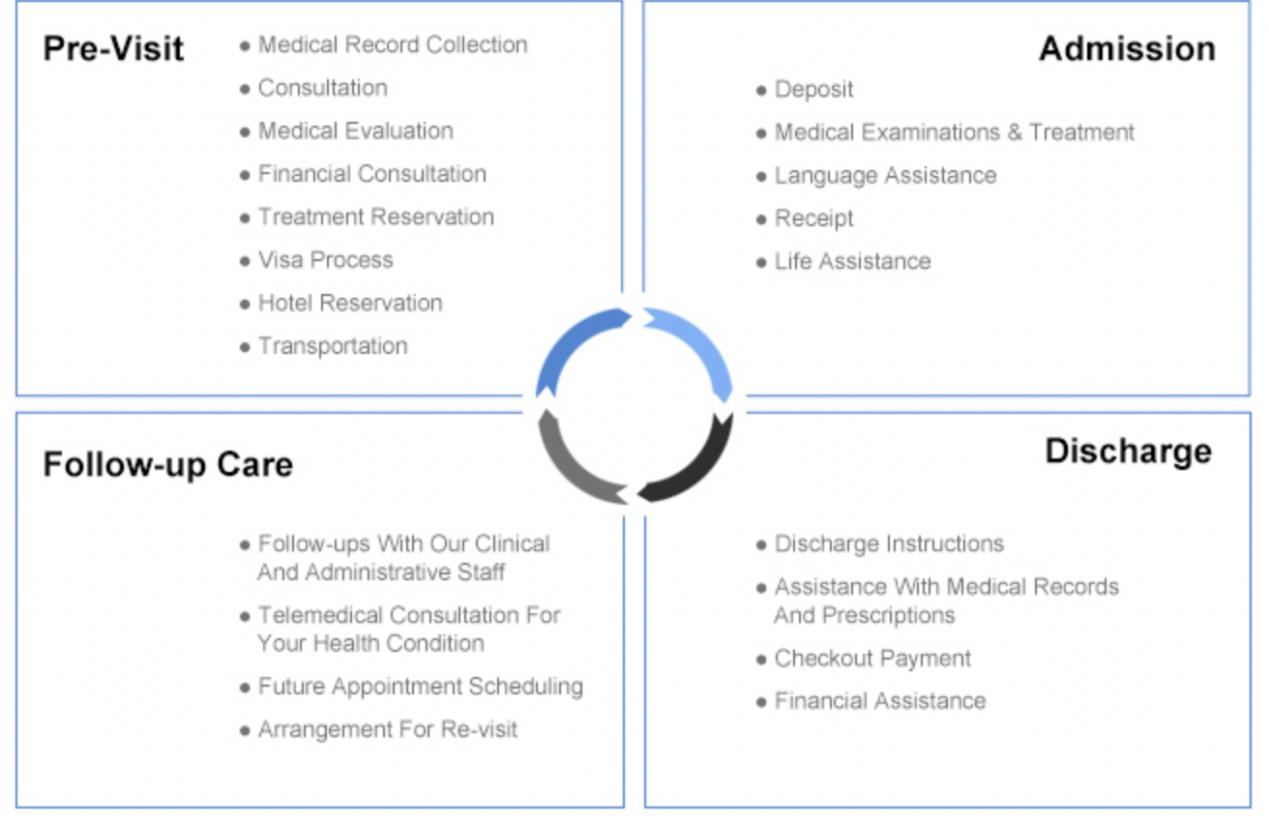 Pre-Visit
·Medical record collection: Collect the patient's medical records via email or WhatsApp for the preliminary assessment. assessment.
·Consultation: Consult with a doctor for further details.
·Medical Evaluation: Offer you an official medical evaluation via email.
·Financial Advice: Estimate treatment payment. We will provide an official invoice to you via email.
·Treatment Reservation: Room reservation and confirmation from the medical team.
·Visa process: We provide an invitation letter for the patient and his/her family.
·Hotel Reservation
·Transportation: Airport pick-up and transport to the hospital (reservation required 24 hours in advance).
Admission
·Deposit: Each patient must pay a deposit for their treatment when they are admitted. During the course of treatment, if the deposit does not cover the actual cost, the patient should pay the balance. If the deposit exceeds the actual cost, each patient will be refunded at the time of discharge. We have staff and third party companies who can assist with the payment process. Any patient can pay by cash, bank transfer, Visa and MasterCard.
·Medical Examinations & Treatment
·Language Assistance
·Receipt: We provide an English receipt on a weekly basis so that patients can be aware of the cost.
·Life Assistance: If necessary, we can help patients find accommodation. We are also happy to provide any information and assistance that can make life easier for any patient here.
Discharge
·Discharge instructions
·Assistance with medical records and prescriptions
·Check-out payment: Based on each patient's deposit and actual cost, he/she will be required to make up the difference or receive a difference or receive a refund.
·Financial assistance: We can provide relevant documentation as required to support communication with insurance companies, embassies or other organizations.
Follow-up Care
·Follow up with our clinical and administrative staff
·Telemedicine consultation for your health condition
·Scheduling future appointments
·Arrangements for return visits
International Center Contact:
Mobile / Whatsapp: +86 13131609162
E-mail: international_center@ludaopei.com