CAR-T clinical trial bridge bone marrow transplantation makes refractory B-ALL patient disease free at Lu Daopei Hospital
Five years ago, Junaid was a student at Pakistan Medical University, full of aspirations to become a doctor. But in May 2014, he was diagnosed with acute B-lymphocytic leukaemia and had to abandon his studies.
He was treated locally for more than two years. In January 2018, he developed systemic bone pain again and a bone marrow examination showed that he had relapsed. After the second course of chemotherapy at the local hospital, he could not achieve remission and the disease had progressed. Through the internet search and the recommendation of other patients, they decided to come to Lu Daopei Hospital for the top-level CART clinical trial and BMT.
On 26 March 2018, Junaid and his family came to China and were admitted to the general haematology department of Lu Daopei Hospital. Dr Peggy Lu and Dr Junfang Yang carried out a comprehensive evaluation of Junaid. The reports showed that the bone marrow blast load was as high as 69% and he had pulmonary fungal infections. After careful treatment, the patient was in a stable condition. On 24 April 2018, Junaid was re-infused with dual CD19 & CD22 CAR-T cells. After two weeks, the bone marrow blast cell count was 0. Smiles returned to Junaid's family. Junaid was to undergo BMT to become disease-free.
On 25 June 2018, Dr Yue Lu, director of the BMT department, and Dr Fang Xu's medical team performed sibling BMT for Junaid. The donor for Junaid is his younger brother. on 6 July, the donor peripheral stem cell was infused back into Junaid, after 17 days the white blood cell transplant was completed and he moved out of the laminar flow ward. After 24 days, his bone marrow type is completely matching the donor's bone marrow type. The review of the bone marrow residual report is negative, with no transplant-related early complications. On 6 August 2018, Junaid was discharged from the hospital and started outpatient follow-up.
Chinese blood organisation is the patient's solid support
Junaid is RH negative blood type, which is a rare blood type. He accepted "Lang Fang rare blood type alliance" free blood donation for many times during his hospitalisation. It never seems like a shortage of blood infusion to him, Junaid and his family very much appreciate the international centre for doing all these for Junaid. Meanwhile, the staff of the international centre accompanied Junaid and his family from their landing till now, gave them all life support and helped the family to overcome the language barrier.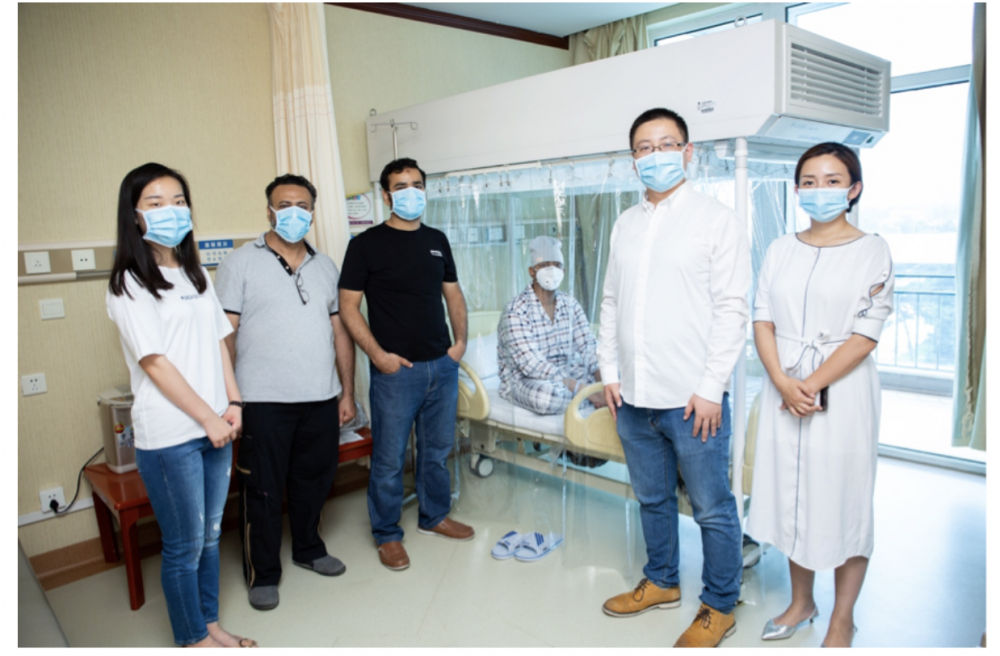 CAR-T clinical trial bridges BMT to create another miracle
The department of BMT of Lu Daopei Hospital is one of the most active centres of BMT internationally. Junaid is the second relapsed and refractory acute B-lymphocytic leukaemia patient from Pakistan to receive CAR-T Bridge BMT treatment. Junaid's successful discharge from the hospital once again marks the international recognition of our hospital's advanced technology of CAR-T bridge transplantation.